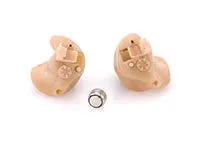 The Benefits Of Hearing Aids
if you are dealing with some degree of hearing loss you may feel as if you are an outsider looking in on all the fun everyone else seems to be having at events and social gatherings. Isn't it time that you became part of the fun again? Here at Parker ENT, we work with patients of all ages and all different types of hearing loss to improve their ability to hear those around them with the help of hearing aids.
About Hearing Aids
A hearing aid is a small device that is either worn behind or within the ear to help amplify sounds to make listening and communicating with those around you easier. Hearing aids can be particularly helpful for patients who have trouble hearing people in loud environments. While almost all people with hearing loss could benefit from wearing hearing aids, unfortunately many people still don't.
It's important to note that while a hearing aid can make hearing certain sounds and frequencies easier it will not be able to fully restore hearing. Of course the sooner you correct your hearing with a hearing aid the better, as it takes the brain and ears time to adjust to this new device. At the first signs of hearing loss it's important that you schedule a hearing screening with our otolaryngologist.
Choose the Right Hearing Aid
There are so many different kinds of hearing aids on the market today. While this is usually a good thing it can be a bit overwhelming for a patient who's choosing their first hearing aid. That's where Dr. Parker and his team at can help make the decision-making process easier.
There are many factors that can play a role in the type of hearing aid that's right for you. These factors include the type and severity of your hearing loss, your budget, your profession and your activity level.
There are several different kinds of hearing aids including,
Behind-the-ear
In-the-ear
Receiver-in-canal
In-the-canal
Middle ear implant (an alternative for patients who may not be able to wear traditional hearing aids)
From decision making to fitting, our medical team will work with you to help you find the hearing aid to get you back into the conversation again.
Whether you are looking to get a hearing screening or you want to discuss your hearing aid options with an hearing specialist call Parker Ear, Nose & Throat of Fairfield County today at (203) 866 8121.
For more information on hearing aids in the Fairfield County, call Parker Ear, Nose, & Throat at 203-866-8121